Dog Boarding
We offer our canine guests the option of indoor/outdoor enclosures or themed indoor specialty suites. All enclosures are climate-controlled, include comfy bedding, and premium food. While your pets are settled at Country Kennels, you can rest assured knowing that they are enjoying their time and receiving premium care.
What to Expect
Multiple accommodation options
Climate-controlled facility
Premium food
Special diet, not a problem, no extra charge
Medications administered by qualified personnel (see cost below)
Comfy beds
Owner lives on premises
Twice daily exercise in a large yard to do their "business", sniff all of the good doggy smells, and run around till their hearts are content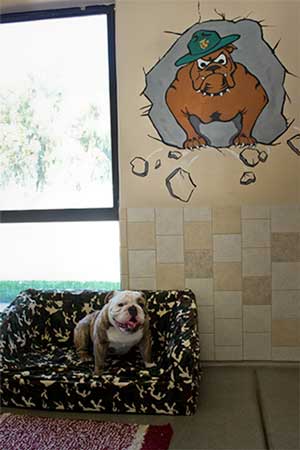 Specialty Suites
We offer nine themed indoor suites for those canine guests that prefer quieter surroundings. Young or old, big or small, our suites can accommodate them all. These suites can be pre-reserved. The price for our specialty suites includes 2 daily trips to an exercise yard to get some fresh air and do their business, plus one group play session.
Window Suite: $56/day
Non-Window Suite: $46/day
Additional Pets: $30/day each
Rates increase $5/day during Holidays. Learn More
Multiple Pet Discount
For guests sharing an enclosure, we offer multi-pet discounts:
$6 off each of the first three guests
$10 off each of the fourth and fifth guests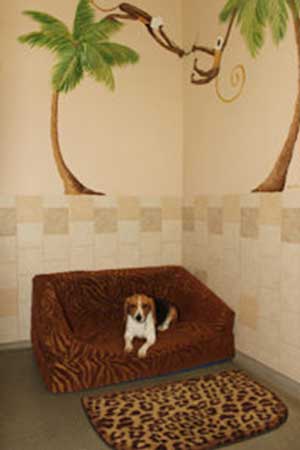 Indoor/Outdoor Enclosures
Inside, our guests can get out of the elements during the day and sleep in a climate-controlled setting at night. The outside of our guest enclosure is available to them throughout the day (weather permitting). This is where they can nap in the sunshine, bird watch, gaze upon the rolling hills, or just enjoy our peaceful country setting. Our enclosures range in size from 4'x6' on the inside with a 4'x10' patio up to our family accommodations of 8'x6' on the inside with an attached patio of 8'x10'.
1lb-50lbs: $39day
51lbs-100lbs: $41/day
101lbs+: $43/day
Rates increase $5/day during Holidays. Learn More
---
Additional Services
Special Handling
Geriatric Pet: $10/day
Aggressive Pet: $10/day
Midday Feeding: $3/day
Medications
Pills: $3/day
Eye/Ear drops: $5/day
Injection/Bandage Change: $10/day
---
Required Vaccinations
At least 72 hours prior to your pet's arrival, Country Kennels must have a formal vaccination record or receipt from shot clinic or licensed veterinarian indicating that the vaccinations are up-to-date and meet County Kennels requirements listed below. Send vaccination records to Country Kennels via email at info@countrykennelsca.com or fax to (951) 677-9513.
Rabies (RV) (1 or 3 Years)
Distemper (DHPP) (1 or 3 Years)
Bordetella (BV) (Required every 6 Months)
Canine Influenza Virus (CIV) H3N8 (Recommended but not required)
Canine Influenza Virus (CIV) H3N2 (Recommended but not required)